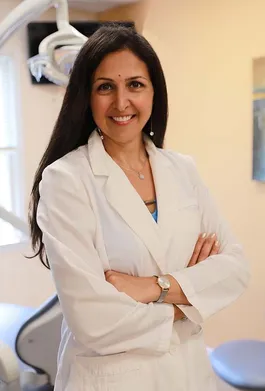 Arezou Daneshvar, DDS, is a highly skilled dentist who specializes in general dentistry, including preventive care and cosmetic services to enhance her patients' smiles. In July 2017, opened her own state-of-the-art practice, Hometown Dental Care PLLC, in downtown Leesburg, Virginia. There, with the help of a warm, friendly staff, she offers world-class oral health care to patients of all ages.
In 2004, Dr. Daneshvar graduated from West Virginia University with a Degree of Dental Surgery. After finishing there, she began working for a free dental clinic serving underprivileged patients in the greater Pittsburgh, Pennsylvania, area. She moved to Winchester, Virginia, in 2009 and continued providing care to underserved patients by working at another free dental clinic in the community.
Since 2012, Dr. Daneshvar had been working for various private practices in the Leesburg area before opening Hometown Dental Care PLLC. Now a mainstay in the community, she enjoys providing dental care to the wonderful people of Northern Virginia along with forming close personal relationships with patients.
Her patients know her as a kind, honest, and compassionate oral health care provider who always has their best interests in mind. Each day in the office, Dr. Daneshvar works closely with her patients, developing personalized treatment plans to improve smiles and boost self-confidence. Dentistry is her greatest passion and the satisfaction of patients is her most cherished achievement.
When she's not in the office, Dr. Daneshvar spends as much quality time with her family as possible. She also enjoys running into her smiling patients in the Leesburg community.
To schedule a visit with Dr. Daneshvar today, call the office or book an appointment online.